The Digital Health Awards 2022 took place on the middle night of Summer Schools in York and CNIO of the Year was won by Professor Louise Hicks. The CNIO at Barts Health NHS Trust revealed all to Digital Health, including her role and journey to this point, how she felt when she won the award and her digital ambitions over the next 12 months.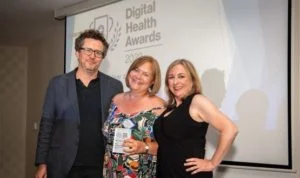 What is your current role?
CNIO and director of development at Barts Health NHS Trust.
How did you become a CNIO?
Intensely committed to outstanding nursing care, I was in a development role and had an opportunity to use digital transformation to not only enhance quality and reduce variation but also create a strong nursing voice for change. I started out by mapping out a vision and engaging a team of passionate and skilled people, which included patient perspectives.
Building a relationship with informatics leaders locally, nationally and through Cerner really inspired me to want to lead this agenda. I have had fantastic support from my CNO [chief nursing officer], CIO [chief information officer] and CCIO [chief clinical information officer] who really encouraged the development. I also have a great relationship with the whole clinical informatics leadership team that has developed – deputy CCIOs, medical clinical informatics leads, digital midwives and pharmacists, nursing informatics officers and lead nurses.
Importantly though is the leadership and support through the hospital directors of nursing and group directors of midwifery and allied health. You have to have this team ambition and commitment.
One of the big motivations of developing nursing informatics and getting adoption though was that many people said, 'you'll never be able to do this'. There was an underlying distrust in informatics and digital solutions and there had been a prior nursing solution in place that wasn't really used. This was a positive challenge, not only to me but also to the fabulous nursing informatics team that has developed since 2018.
I could see that being the CNIO has a wider opportunity to also impact population health and enhance outcomes for patients and the community. I have had a clinical and academic career that has also included education, research and community engagement alongside coaching, transformation and organisational development. All of these have been incredibly helpful in the CNIO role.
In 2018 we took a team to Kansas City to the Cerner Conference. We used this as an opportunity to galvanise our nursing and multiprofessional clinical informatics vision. From this we developed our Barts Health We Connect vision and my CNIO role formally began.
How did it feel to win CNIO of the Year?
I was overwhelmed! It is such a wonderful achievement and I am truly overjoyed. It's a great recognition of the nursing contribution to clinical informatics and is so important. I feel that it is a result of masses of support and the commitment and passion of many, not least the nursing informatics team at Barts Health, who are an inspiring and talented group of professionals but also other CNIOs that I've networked with and always been so supportive. There is a great camaraderie between CNIOs and we are very happy to share perspectives, solutions and resources. Even though we work with different systems and suppliers, the core is about the patient and NMAHP [nursing, midwifery and allied health professions] as professional excellence.
Since the award I've received so many congratulations and good wishes – it's so kind and positive. It creates a wave of further motivation to do so much more! It's great for nursing teams to share in this award and recognise that the integration of informatics as part of the caring role is essential.
What is the most challenging part of your role?
Time and resource. At the moment we are growing and need to be strategic and tactical in how we align ongoing resources. We have ambitious plans but these need to be fully supported through robust investment. We are developing strong business cases and have much support so the future is certainly bright.
It's really important to ensure a robust infrastructure and career framework that enables nurses and clinical teams to see informatics as a great career opportunity. It requires us to have greater national consistency and talent management. We have the talent but we need to enhance the framework.
If we get these two aspects right then the inclusive ambitions to create better population health and remove digital poverty in communities become an easier aspiration.
Within your organisation, what is the most significant digital achievement of the past 12 months?
During our response to Covid, between peaks, we implemented ePMA [electronic prescribing and medicines administration] on 127 of our wards and areas across four hospitals. We established a 90-day assurance and preparation programme followed by 90 days of fantastic go lives across our organisation. It was wonderful to get teams focused on the detail and energy of this and to spread our We Connect method of team development.
It's been a fabulous achievement that has galvanised the positive power of working with a fantastic clinical informatics team, IT and clinical systems with each of our hospitals.
What is the largest barrier to achieving digital transformation?
The largest barrier would be in thinking it can't be done!! I never think this – there is always a solution. However, we need the investment to ensure we have the right talent and skills in the right place plus the joined up thinking and strategies to ensure aspirations are systematically achieved and progressed.
We really must ensure that we are truly listening to our communities and not leaving people behind or marginalised. It is really important in our transformation plans to ensure inequalities are tackled and new solutions are in place to prevent exclusion.
What do you hope to digitally achieve within your role and organisation over the next 12 months?
Over the next 12 months we have an exciting agenda and plan to continue to optimise our nursing and clinical records system. Further enhanced implementation that targets women and children, critical and perioperative care and builds on the flow of data and information to impact clinical decision making are just some of the plans.
People are at the heart of informatics development so making sure our core team have the support and development opportunity in place that they need for the next phase of the journey and their career ambitions plus supporting and expanding our fabulous team of 500 superusers is essential.
We are developing impressive education and research opportunities so look forward to working with our Higher Education and Life sciences partners.
The next 12 months has to also include supporting the Shuri Fellowship as an ally and also committing to mentor, coach and support those wanting to develop their careers. We had five fellows on cohort one and they have done so well. Ensuring that this is available alongside other fellowships and digital developments is key to our strategy and also staff satisfaction.
During the next 12 months we will also be continuously improving using data and information. We have achieved much in developing medication safety, improved sepsis screening. enhanced management of deteriorating patients and understanding core nursing criteria and we are targeting more here.
We have had the pleasure of forming closer relationships with Barking, Havering and Redbridge University NHS Trust and over the next 12 months look forward to supporting plans and people as needed.
What advice would you give to anyone who is thinking of becoming a CNIO?
Go for it! Think about the skills and talents you would bring to the role and the specific leadership and transformation needed. Not all CNIOs are the same – we bring particular unique talents to the role and can use them to achieve what's needed.
Talk through your career plans with other CNIOs or digital transformation leaders.
Talk to the chief nurse or your director of nursing.
Get a sponsor who can support you in your career ambitions and will speak out for you.
Do a digital fellowship or equivalent – Florence Nightingale, Digital Health.
Get a mentor and/or coach – the Digital Health CNIO Advisory Panel is launching a mentor scheme this year for example.
Shadow a CNIO and CCIO – look at different models and ideas.
Get involved with Digital Health – events, discourse, Summer School, round tables and seminars.
Who is your system provider – do they offer development? Access this and understand more.
Learn – set yourself a development plan, appreciate your talents and explore opportunities to enhance your skills (working with a coach or mentor will also help here) – integrate this in your annual appraisal and personal development plan.
Get involved in your organisation – develop relationships with NMAHP and IT leadership.
What do you feel passionate about that digital transformation makes the difference? Get involved in a programme of work in this area – test it out.
Enjoy! It's a brilliant role – it can be called different things in different places so when you are looking for roles be sure to look widely for nursing and clinical informatics lead roles.